Several months ago, while downloading the SAP BusinessObjects Explorer and Mobile BI apps in the Apple iTunes store, the "genius" recommended that I take a look at an app called Chart Soup. It was a whopping three dollars- about the price of a typical Starbucks visit. But I couldn't bring myself to download it.
Chart Soup was created by international man of mystery John Wakley. Despite the fact that he created the software, the link to his "company" web site is blank (honestly, I wonder how this got past the guardians of the iTunes store). Mr. Wakley also seems to have an affection for Campbell's Soup, Andy Warhol, or both.
Since I couldn't find a corporate web site or any reviews on Google, I decided somebody should spend three dollars to check out the app. So I did. I learned that Chart Soup is essentially an RSS reader for a collection of data visualization web sites. There is also some integration with Wikipedia and rudimentary bookmarking capability.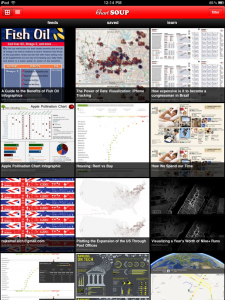 While Mr. Wakley is to be commended for putting together a universal app for iOS that looks great on both iPhone or iPad, there's no original content by him on the topic of data visualization nor a clear roadmap of where this app is going. My guess is that Mr. Wakley created the app as a student for some kind of college computer science project.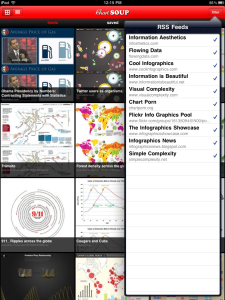 The web sites referenced by Chart Soup are interesting and worth bookmarking. But they focus on the broader topic of data visualization, not the narrower topic of business intelligence dashboards. More Edward Tufte and less Stephen Few, if you get my meaning. Here's the complete list:
But should you spend three dollars on Chart Soup or on a Starbucks Latte? It probably depends on how much you love coffee.
Chart Soup 1.2 was released April 30, 2011 and is available in the Apple iTunes Store (download here).