NOTE: The techniques described here also work with SAP BusinessObjects Business Intelligence 4.2.
SAP BusinessObjects Business Intelligence 4.1 went into general availability on August 29, 2013 (see related EV Technologies article, SAP BusinessObjects BI 4.1 Now in General Availability). In addition to combining fixes from previous releases and introducing new features and platform support, there were some minor changes in how the BI Launchpad can be customized. I'll walk through the changes in the properties file in this article and address the CSS customization features introduced in SAP BusinessObjects BI 4.0 Support Pack 4 in a future article.
Apache Tomcat 7
The first thing to notice about SAP BusinessObjects Business Intelligence 4.1 is that it installs Apache Tomcat 7 as the default web application server in place of Apache Tomcat 6 (SAP BusinessObjects BI 4.2 uses Tomcat 8). For upgrades to earlier versions, the installer will leave the Apache 6 files at C:Program Files (x86)SAP BusinessObjectsTomcat6 and install Apache Tomcat 7 in the adjacent C:Program Files (x86)SAP BusinessObjectstomcat.
Customization Basics
Starting with BI 4.0, SAP uses properties files that can be easily changed using a text editor instead of the XML files used by XI 3.1. These files can be preserved during patch updates by following some simple steps.
The default location for properties files is the C:Program Files (x86)SAP BusinessObjectstomcatwebappsBOEWEB-INFconfigdefault directory. To modify properties from their defaults, copy the desired properties file from the default directory to the adjacent custom directory, which is C:Program Files (x86)SAP BusinessObjectstomcatwebappsBOEWEB-INFconfigcustom.  To make sure your changes are preserved and not lost the next time the WAR files are deployed (typically during patch upgrades), be sure to follow SAP Note 1615492 and copy the custom files to SAP BusinessObjects Enterprise XI 4.0warfileswebappsBOEWEB-INFconfig.
Customizing the BI Launchpad Login Page
The new BI 4.1 BI Launch Pad login has been streamlined in appearance from earlier versions. Long-time fans of the BusinessObjects brand will notice that the SAP BusinessObjects logo has disappeared in favor of the SAP logo (see related article, First Impressions of SAP BusinessObjects 4.1). In fact, the only mention of "BusinessObjects" is in a text string that we're about to customize.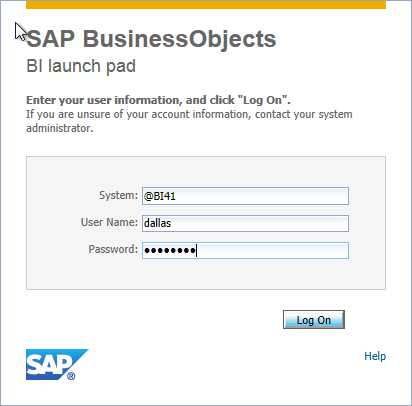 The appearance of the login screen is controlled by the default BIlaunchpad.properties file, located at C:Program Files (x86)SAP Business ObjectstomcatwebappsBOEWEB-INFconfigdefault.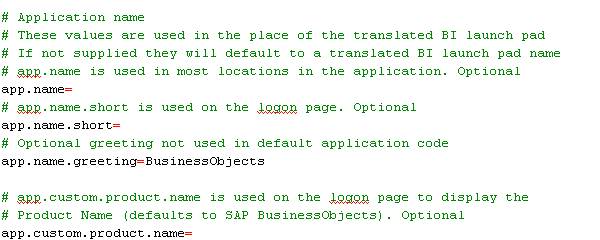 In addition to the existing app.name, app.name.short, and app.name.greeting properties from previous releases, BI 4.1 introduces a new property, app.custom.product.name. It's left unspecified but currently defaults to SAP BusinessObjects, which appears on the first line of the logon screen. The app.name.short parameter is also unspecified but defaults to BI Launch pad. The app.name property is not used on the login screen but instead is used for the <TITLE> of all interior pages of the BI Launch pad.
To customize the properties file, do not modify the original but instead copy it to adjacent directory C:Program Files (x86)SAP Business ObjectstomcatwebappsBOEWEB-INFconfigcustom. I've shown the modifications below.

After restarting Apache Tomcat, I can see the result of my customizations.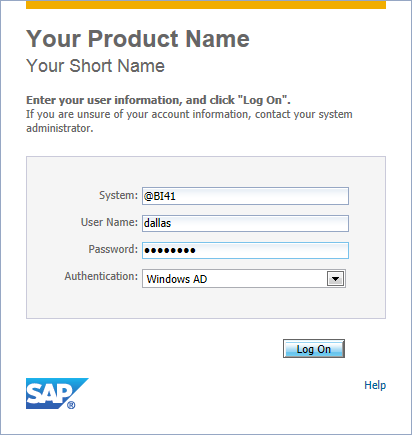 Once I log in, I can see the effect of the app.name parameter.

The rest of the customizations such as system name and authentication type are identical to previous versions.
Adding or changing Favicons
If you want to dress up your users' browser with a favicon, overwrite the standard Tomcat favicon.ico file with your own at <INSTALLDIR>/tomcat/webapps/ROOT then restart Tomcat.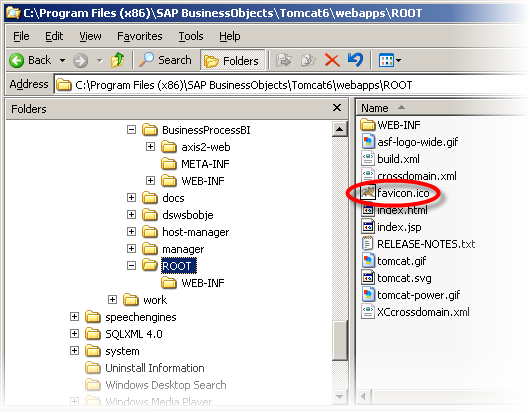 There are unique icons for the BI Launchpad, Central Management Console (CMC), and Explorer.  I like to replace the BI Launchpad and Explorer favicons. I prefer to leave the CMC favicon as-is, as only a few people see it and it's easier to find when multiple browser tabs are in use.
Place new InfoView.ico in C:Program Files (x86)SAP BusinessObjectstomcatwebappsBOEWEB-INFeclipsepluginswebpath.InfoViewwebimages. Place new explorer.ico in C:Program Files (x86)SAP BusinessObjectstomcatwebappsexplorer.
Be sure to clear Tomcat cache C:Program Files (x86)SAP BusinessObjectstomcatworkCatalinalocalhost before restarting.
NOTE: The favicon can now be set as part of the BI Launch Pad branding kit. See Christina Obry's article Branding and Theming of BI launch pad for details.
Changing the Default Web Intelligence Paper Size
When SAP BusinessObjects Business Intelligence 4.1 is initially installed, the default page size is A4.  This international standard (see Wikipedia) is used nearly around the world but is not the same as the standard Letter size used in the United States and Canada.

Prior to BI 4.0, the default paper size was set in a file named defaultconfig.xml. But BI 4.x no longer uses this file to define default paper size. Instead, Web Intelligence now derives attributes like page size, header size, footer size, and margins from a Cascading Style Sheet (CSS), not the old XML configuration file. The procedure for changing the default paper size from A4 to Letter can be found on this article I wrote for the EV Technologies blog.
NOTE: Existing reports will still have the page size set when the document was saved; however, this modification will change the default page size setting for all new documents.
SAP BusinessObjects Business Intelligence 4.1 Launch Pad Default Preferences
My colleague Chris Greer has a great write-up on setting default user preferences, either by user or group, which was introduced as a new feature of the BI 4.0 platform.
Conclusion
So that explains the mechanics of customization. But how to use it practically? Use the upgrade as an opportunity to educate your customers about your brand (see related article, Business Intelligence Branding). Don't lose sleep over retraining users that the InfoView portal has been renamed as the BI Launch pad. Or wondering if and when SAP will finally pull the plug on the BusinessObjects brand.
I'm sure I'll have more to share about BI 4.1 as I begin working daily with the new release. And I hope to write soon about using the CSS customization features recently introduced in BI 4.0 SP4. In the meantime, Christine Obry has provided some great information on the SAP Community Network and you can find the links below.
Resources